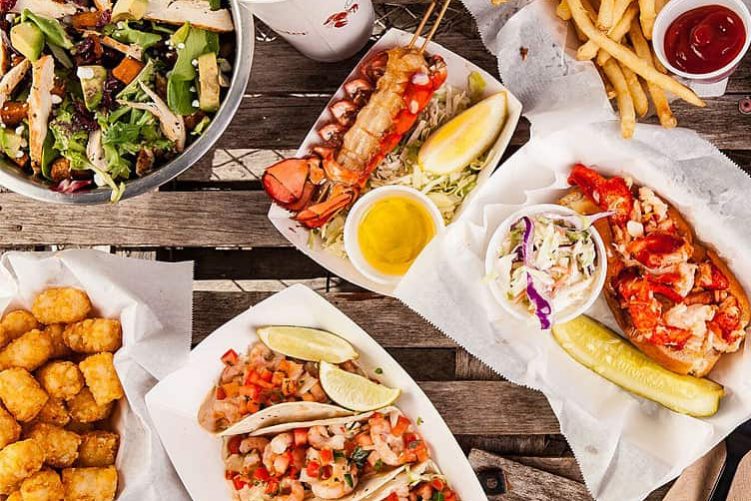 Since 2012, we have worked hard to bring Maine seafood to hungry patrons throughout the U.S. We strive to create the most authentic Maine seafood experience by staying close to the source. We know the men and women who haul traps and distribute the delicious catch of the Gulf of Maine which allows us to serve the best tasting lobster rolls off our trucks or deliver a few live lobster straight to your home.
Cousins Maine Lobster is excited to feed the hungry minds of the Triangle. We are excited to bring a taste of Maine down the coast to North Carolina. Come find us on a street near you!
Cousins Maine Lobster Raleigh has been awarded the 2017 Midtown Magazine Diamond Awards for the Best Food Truck, the 2016 WRAL Out & About Voters Choice Award for the Best Food Truck, featured by Greg Cox in the N&O, Cary Magazine, The Walter, Triangle Business Journal, as well as on ABC's "Shark Tank," " Beyond The Tank," "The Chew," "Katie Couric," NBC's "Today Show," "Kathie Lee and Hoda," Bravo's "Million Dollar Listing," " The Queen Latifah Show," Food Network and was also featured in Entrepreneur Magazine, Food & Wine Magazine, Saver Magazine and OK Magazine.
**Offers gluten free options
Monday 11-8pm
Tuesday 11-8pm
Wednesday 11-8pm
Thursday 11-8pm
Friday 11-9pm
Saturday 11-9pm
Sunday 11-7pm
Temporary Curbside Parking For Takeout
(5 Min Temporary Parking at the Morgan Street Entrance)